This is the most convenient and versatile gadget which will be of great use for photographer and also for general user.
The unique Slingbelt and Bucket System is a unique idea that tends to make the camera carrying effortless. If you are an outdoor and photography lover, you know how tough it can be to carry your camera everywhere. This innovative solution features a unique system that makes carrying your gear a lot easier.
The belt was designed in a unique way that distributes the weight of your camera to your hips. That ensures you won't feel any pain or fatigue in the shoulders and neck. You also get a neck strap that keeps your camera safe. The system keeps your camera instantly available for all those stunning moments you want to capture.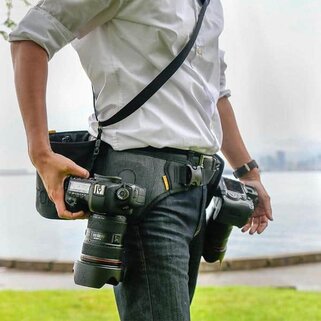 SLINGBELT the world's most comfortable, versatile carrier for cameras, lenses, binoculars, and extra gear. The SlingBelt sits comfortably on your hips thanks to its ergonomic design. Load the belt up with one or more cameras. Plus carry a lens or two in the Lens Bucket. This versatile system is ready for your next active shooting session.
The advantage of the SlingBelt is its fixed-position carrying system. Our patented Twist & Lock mount secures a camera or binoculars to your hip. Add a second mount with a side holster if you'd like. A quick twist and your camera are quietly deployed. Want to access your camera faster? The included Sling Tether allows your camera to hang for instant shooting.